Equine liability release form are also known as hold harmless agreements and waivers discourage people from suing and protect he person from being sued.
A liability release form by providing a legal defense by assumption of risk. A well-drafted liability release keeps the person signing well informed about the risks of what they are about to do. The description of the risks and the needs have to be specifically drafted. This form assumes that the person signing is not aware of the various risks associated with the job to be done and explicitly defines all the risks, and the dangers associated with it. For example if an Equine liability release form and horse riding disclaimer form is raised stating explicitly all the risks associated with horse riding, and the student gets injured during the training classes, the waiver agreement protects the trainer from being sued.
Equine release and waiver of liability assumption of risk and indemnity agreement protects the business owner. Even if the aggrieved or injured files a case, the personal attorney gets paid only if he wins the case. Most of the time the personal injury attorneys take up the case only if they find the case winning and if the liability release forms are ambiguous.
Given below is a sample of equine liability release form in Word format. Download and customize this form to use it as ride at your own risk and Horse template forms safety from litigation.
Equine Liability Release Form Template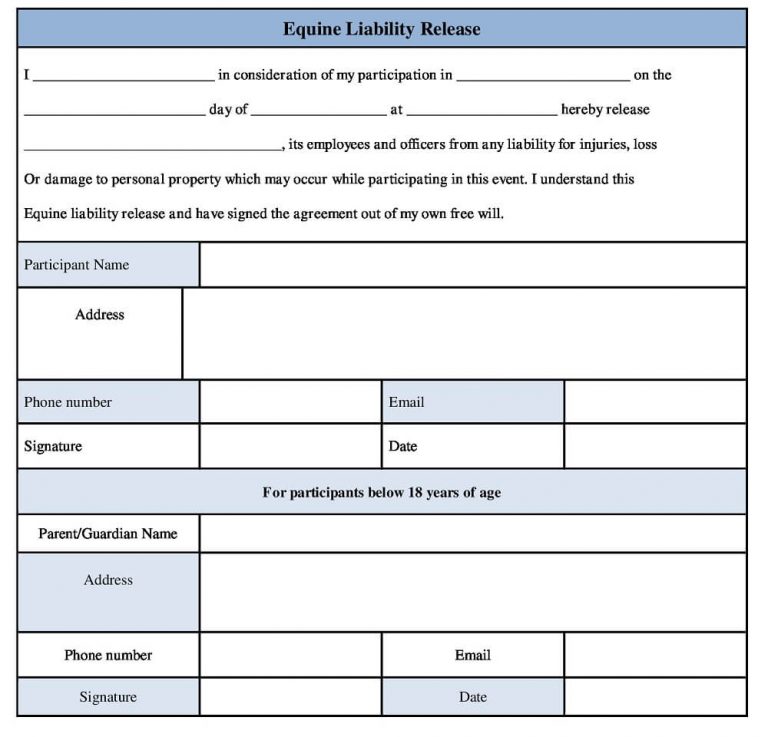 Download Easy to Edit Equine Liability Release Form at only $3.00

Related Posts to Liability Forms
Hunting Release of Liability Form Template
The Hunting hold harmless agreement gives a legal protection to the land owner, lease holder, employees of the land owner, their heirs against any damage or injury, harm or death caused to them or their property.
Liability Disclaimer Form Template in Word Document
Liability disclaimer form is used to release the organizers from the liability or damage faced by any participating party.
Download Commercial General Liability Form in Word Format
The commercial general liability insurance protects companies from negligence of third party working with them, or any one working on their behalf.
Download Certificate of Liability Insurance Form Template Doc
A certificate of insurance acts like a proof of insurance coverage. Most of the time it is requested as proof of liability insurance.
Car Accident Waiver and Release of Liability Form Template
The form is used when an accident like a car damage or property damage has already happened. Instead of going through an expensive court procedure.
DMV Release of Liability Form
DMV release of liability form needs to be filled up to notify the Motor Vehicle Company about the change of ownership.
General Liability Waiver Form
A general liability waiver form also known as general liability release form is used by organization to protect itself from lawsuits.
Liability Form Format
A liability waiver form is essential for release of liability of recreational operators for injuries sustained by participants.
Limited Liability Corporation Form
Limited Liability Corporation has many benefits in terms of tax benefits and limited liability. Such a corporation also provides protection from business debts.
Product Liability Release Form
Product liability refers to the liability of the manufacturer or seller for selling defective product which causes risk or injury to a customer.
Sample Liability Release Form
A liability release form is used for allowing business or organizations to be released from responsibility for any injures or damages sustained by an individual in an activity owned or organized by the organization.